Joint Effort
Joint Effort is a women in prison abolitionist group involved in solidarity work with women prisoners in the Lower Mainland.
Joint Effort started as a sub committee of the BC Federation of Women and has been volunteering at the women's prison since 1980.
The group consists of women who work to create contacts between women in prison and various community organizations outside the prison.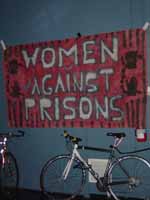 On the "inside" our work consists of organizing discussion groups, various workshops and music, theatre and sports events. We work with the Inmate's Committee and the Native Sisterhood to support their activities in any way that we can. In our weekly visits we try to create a space where women from "inside" and "outside" can communicate around issues of mutual interest, where respect and confidentiality are practiced and where a woman can speak her mind and be supported.
On the "outside", Joint Effort is involved in providing public information about the situation of women in prison as well as lobbying the government on various issues.
Joint Effort is an independent group that is not associated with the prison or the church. We are unpaid workers and the group does not receive any government or institutional funding.