Find out more about Joint Effort on their website: jointeffortcollective.ca
Joint Effort is a community group of incarcerated and formerly incarcerated folx and their allies involved in mutual solidarity and mutual aid within the prisoner and ex-prisoner community. Joint Effort started as a sub committee of the BC Federation of Women and has been going into the prisons designated for 'women' in the lower mainland since 1979.  We have been part of decades of social justice movements – their rises and declines in moments of growth and moments of mere survival. Our collective strength and our ability to negotiate tough bureaucratic systems accounts for our endurance. Our diverse approaches allow us to get a lot done with limited resources. We are an independent group who do not accept state or church money, and this has taught us to connect and work meaningfully and purposefully, with limited financial resources.
Currently, Joint Effort includes members located in Vancouver, Winnipeg, Toronto and Montreal. Each of us are contributing different work within our context as well as supporting the original group's work in Vancouver.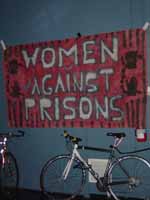 Joint Effort works to create connections between people in prison and various communities and organizations "outside" the prison. Historically, our work on the "inside" consists of organizing discussion groups, bringing in reading materials, various workshops and music, theatre and sports events. We have worked with the Inmate's Committee and the Native Sisterhood to support their activities. In our weekly visits we created a space where people from "inside" and "outside" can communicate around issues of mutual interest, where respect and confidentiality are practiced and where people can speak their mind and be supported.